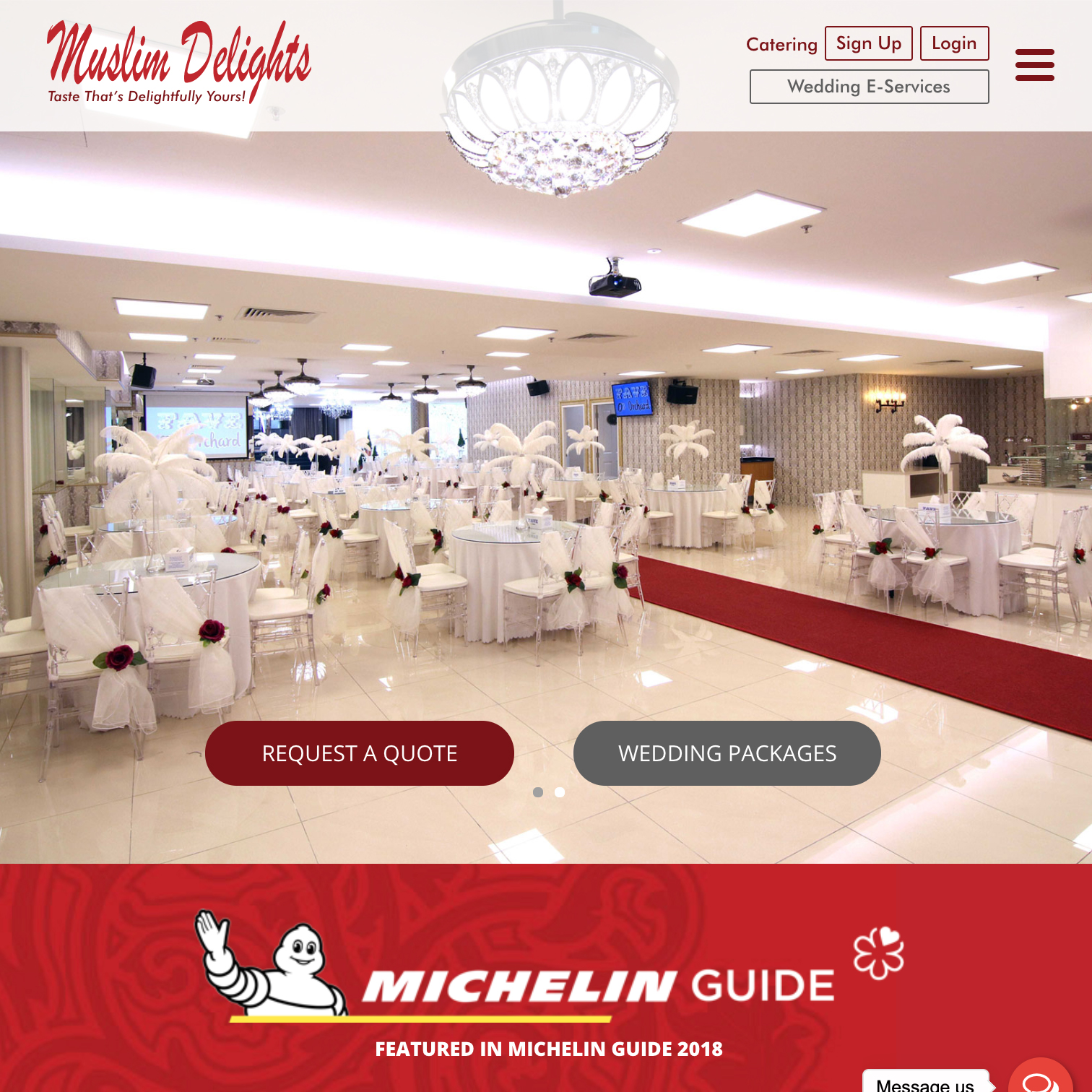 Helped Providing Catering and Wedding Services Online to Customers in Singapore
AlphaRages and Muslim Delights partnered to create a platform where customers can easily plan and organize corporate events, weddings, and social gatherings online, hence, making them memorable. We built a system where customers can opt for the personalized décor and arrangements at the wedding venue including sophisticated sound arrangements and three tier wedding cake. Our professional team created a web application so customers can design their customized wedding invitation cards while our QA engineers worked throughout the process to provide the best services.
Project Name: Muslim Delights
Website URL: https://muslimdelights.com/
Industry: Catering & Wedding Arrangements
Platforms: Web
Technologies Used: PHP Laravel, Angular, WordPress, Vue JS, MySQL, WebPack.
Muslim Delights and AlphaRages: Muslim Delights is a leading name in the Catering and Wedding Services industry in Singapore, offering customized services ranging from the wedding venues to wedding catering, set-up, and other related services. Their stage setting all through to guest wedding flavor ensures a Perfect Wedding that runs smoothly and makes the event unforgettable.
Muslim Delights needed a web application where users can conveniently make reservations for their social gatherings, corporate and wedding events by planning and deciding dates online instead of physically visiting the premises. The app functionality also needed choices where customers can opt for the décor and food servings. Besides the given choices, we were required to execute options in which users can either design custom-made wedding or invitation E-cards or choose from a given set of options and those can be sent to the people via email.
How we helped Muslim Delights: AlphaRages developed a customer-oriented solution for the web application. While building an existing application for Muslim Delights, our experts ensured to create a system where an app can send reminder notifications relevant to the upcoming event(s) both to system admin and customers.
Customer Information Management System (CIMS): The new interface aided in managing customers' information that could be obtained for registration of catering and/or wedding events, designing customized wedding or other invitation cards, and sending matrimonial invitations. We offered easy to use Stripe payment gateway so customers can be relieved from the tedious payment methods while arranging for their special occasions.
With these solutions, Muslim Delights has enabled its clients to make bookings online for their events, get their customized cards designed for wedding or social gatherings, and choose from an extensive range of menu choices so they won't have to rush to the premises to organize them and can have a seamless occasion on the due date.
Impact after Our Web App Implementation: Our professionals worked with the team of Muslim Delights to develop a platform where they can fully interact with the customers when they are intending to avail different services either it is the décor and arrangement at a wedding venue, high-class sound arrangements, choosing a wedding cake, and designing and printing of the invitation cards and much more.
With the development of catering and wedding applications using the latest techniques, Muslim Delights has been able to deliver the best single point of contact for catering and wedding services, hence, giving great user experiences at an affordable price.
Today, Muslim Delights has become a renowned Halal caterer in Singapore that has organized a wide range of celebrations for celebrities as well as for regular customers. Their professionals ensure arranging a well-organized event while conceptualizing the desired theme, without compromising on the delays, delivery time, and food quality.
---